Senior high school students from Belgorod gymnasium № 12 under the direction of regional contest "Teacher of the year" laureate, geography teacher Natalia Auer are getting acquainted with laboratory biogas power plant of Belgorod alternative energy institute for the third time.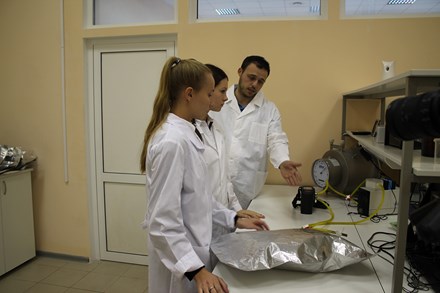 Under the direction of their teacher students have arranged research project under the title "Green energy in Belgorod region" and mow they are getting this project ready for participation in international ecological contest "School stands for ecology: think, research, act!". This is the new contest for Goethe Institut, which aims to focus on local ecological problems of environment and to find solution for these challenges. The contest is holding as part of program "Year of German language and literature in Russia 2014/2015" with information support of the Ministry of Education and Science of Russian Federation collaboratively with universities and research-scientific institutions of Russian Federation and Germany.
Students of 10th and 11th forms Ekaterina Pasko, Elizaveta Evdoschenko and Lada Klyzenko are taking part in conduction of experiments at laboratory biogas plant under the direction of the Head of the laboratory Pavel Ukrainskiy. Girls have made their first research in the scope of renewable energy and are planning to share received results with the jury of international contest.