AltEnergo held a production meeting
Today, November 13, a joint production meeting of LTD "AltEnergo" and LTD "Belgorod Institute of Alternative Energy" was held at the company's central office, at which production the results for January-October 2019 were summed up. The meeting was attended by Denis Filatov, acting director of LTD "AltEnergo", Vladimir Bredikhin, general director of LTD "Belgorod Institute of Alternative Energy", Chief Engineer Ilya Meylakh, Head of the Financial and Economic Department Konstantin Prisukhin, specialist of Belgorod Institute of Alternative Energy Peter Tolmachev and other employees. Managers and specialists heard the results of the companies' work for 10 months of the 2019 year and outlined plans for the next period.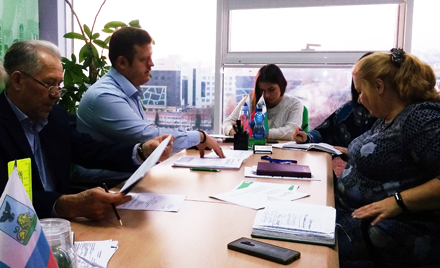 The meeting began with a report by Ilya Meylakh, who noted that the biogas plant "Luchki" generated 1.8 million kilowatt-hours of electricity last month, and over 20 million kilowatt-hours of electricity in 10 months. At the same time, over 65 thousand tons of waste was processed at the biogas plant "Luchki" during 10 months. Konstantin Prisukhin reported to the audience about the main financial indicators of the company, and then the topic of the meeting turned to the results of the work BIAE Laboratory Biogas Plant, which studies raw materials for biogas plants.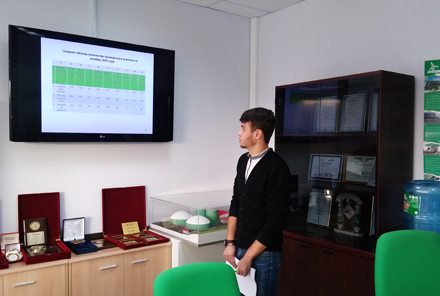 Since the beginning of the year, 1701 analyzes of various waste samples were carried out in the laboratory. Employees exceeded the 10-month analysis plan by 12 percent. Also in the report of the laboratory specialist Peter Tolmachev analysed the dynamics of changes in the fos / tac indicators and the organic load on the Luchki fermentation tanks, the level of biodegradation of raw materials, the deviation from the theoretical data in the biogas generation by the Plant.
The meeting participants rated the production results of the companies for October 2019 as good. Also present noted that the current month - November - is an anniversary for AltEnergo LLC: the company will be 10 years old.

AltEnergo press relations service