South Korean consortium got acquainted with potential alterantive energy market in Russia
On 5 February OOO "AltEnergo" received Dr. Song, Hyo-Soon, CEO of Eco Energy Holding – one oft the biggest companies, working in alternative energy direction in Republic of Korea.
Meeting of korean guest with board of directors of OOO "AltEnergo" and OAO "Belgorod Instiute of Alternative Energy" is the result of partnership of Belgorod companies dealing with installation and operation of renewable energy sources and governmental organization KOTRA (Republic of Korea), which has highly evaluated potential of OOO "AltEnergo" during last visits.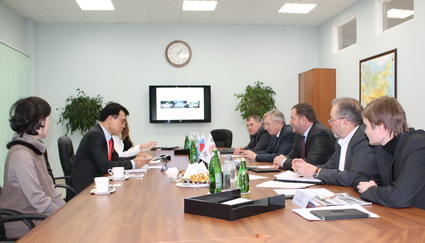 Main task of KOTRA organization is assistance in quick growth of export-oriented economy. As the result of patronage of this governmental organization in South Korea is the establishment of consortium, including three companies, which have expressed their desire to be on russian market.
During business meeting Dr. Song, Hyo-Soon has shared the unique experience in operating the biggest in Korea landfill gas processing plant with installed capacity 50 MW with Belgorod specialists.
There are no such analogue plants in Russia. Appearance of such big-scaled alternative energy objects in in Korea is determined by preferences, provided for companies, operating RES objects by country's government. Preferences involve list of quotas, among them – issue of 5- dollar certificates per each ton of CO2 , which wasn't emitted to atmosphere due to ecologically clean energy generating method.
Biogas power stations are yet the only so effective source of "green" energy, - agreed the specialists from different countries. These power stations not only prevent atmosphere form bad influence of human activities, but also generate electric energy without nature resources harming, which preservation is relevant for every country, and doesn't depend from energy source potential of the country.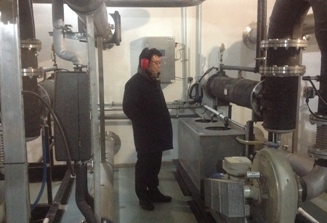 Dr. Song, Hyo-Soon, the founder and owner of leading company in consortium, performing landfill gas processing, during his visit to Belgorod region has visited biogas power station "Luchki", biogas laboratory, and other objects of OOO "AltEnergo" – solar power plant, and wind power plant. Mr. Song has highly estimated "pioneers" of Belgorod company on russian market of alternative energy, who has showed themselves off as very perspective industry solution. Executives of both companies have expressed mutual hope of further cooperation, which will bring ecological and economical benefit for both partners.

Press service OOO"AltEnergo"